About Me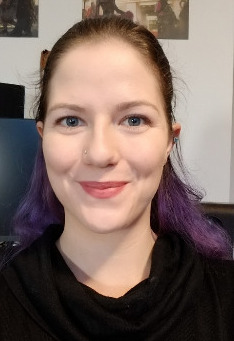 Hi, I'm Lacey!
I'm a Front End Developer based in Toronto. I have a life long passion for languages and puzzles. While at the University of Toronto studying Linguistics and Classical Civilizations, I first encountered computer languages. Being able to approach tasks in web development from different angles allowed me to apply qualitative and quantitative skills I acquired from both of my degree majors and my previous work in data entry and analysis. To me, coding feels like a puzzle waiting to be solved or a language to be decoded. Leadership skills I acquired while working as a manager at McDonald's for 9 years combined with my time as a mentor for the TDSB help me to identify the strengths of my colleagues and when to ask for help.
When I'm not trying to grow my coding skills, I love to read, play video games, travel, learn new languages, and hang out with my cat.
I look forward to continuing to grow and develop new web development skills!
Skills
Currently learning Gatsby
HTML5

CSS3

SCSS

JavaScript

jQuery

GitHub

React

Accessibility

Firebase

Responsive Design